Our 2020 ADA Goal: 
Appeal Weekend is 
If you wish to make a donation on your pledge or to pay your contribution in full, please make your check payable to the Catholic Diocese of Peoria.  Reminder statements are sent monthly from July to February.  Donations may also be made by signing up for automatic deduction by credit or debit card, by direct debit or online.
Online donations                                                       Online Donation Overview
Any funds received above our goal are returned to our parish.  Last year, because of your generosity, we received a total rebate of  $3,507.55.
ADA Videos       
The Diocese of Peoria is made up of 159 parishes  and about 57,000 registered Catholic families.  There are many ministries and apostolates that the Diocese can offer that we as a single parish cannot.  Catechetical training for schools and CCD teachers, recruitment and training of priests, medical care for retired priests, ministry to our students on college campuses, evangelization, administration of many of the details of parish finances… these are just a few of the many services we receive from the Diocese of Peoria.  Your support, in prayer and through your sacrificial gift, make it possible to provide these services.
Frequently Asked Questions
Why should I contribute to the ADA?
From the Gospel of Matthew we learned, "For I was hungry and you gave me food, I was thirsty and you gave me drink, I was a stranger and you welcomed me." The work of the Church in every one of our 156 parishes, schools and college Newman Centers, is to bring all souls closer to Christ. Quite frankly, the Church needs your financial support in order to accomplish its mission.
How much of my gift goes for administrative cost?
The Annual Diocesan Appeal strives to be the best possible stewards of your gifts. Ninety seven cents of every dollar goes directly to the critical work of the schools, parishes, agencies and ministries of the Diocese of Peoria. The Appeal operates at an efficiency of three cents per dollar including all administrative and fundraising expenses.
Are ADA funds used to pay legal fees or settlements from sexual abuse cases?
The Annual Diocesan Appeal supports the work of the Church in the Diocese of Peoria. All funds raised will be used exclusively and solely to support the programs and ministries of the Diocese. No monies donated to the ADA have been or will be used to defray expenses related to misconduct issues.
Will I receive a tax receipt?
Everyone that contributes to the ADA will receive a tax letter in January.
Is there a minimum I need to donate?
There is no minimum. All gifts are gratefully accepted and valued. As stewards, we should take the time to to reflect on our God given gifts of time, talent and treasure. Charitable giving is a reflection of our Christian Stewardship of treasure.
How can I make my gift?
You may make a one-time gift, or pledge over eight months.
Payments may be made by check, credit/debit card, direct debit from your checking/savings account or pay your pledge online. We also accept gifts of stock or grain donation. Please call Diocesan office for detailed stock instructions at 309-671-1550.
The Annual Diocesan Appeal helps
others while also helping
St. Joseph Church
The ADA is the major source of revenue for the programs and agencies of the Diocese of Peoria.  These programs and agencies enable the Church in the Diocese of Peoria, under the leadership of Bishop Daniel Jenky, to reach across parish boundaries to provide services in the areas of Prayer and Worship, care for the elderly, prison ministry, food and clothing for those who go without, Christian Education (Catholic Schools and Parish Religious Education), Evangelization, Pre-Cana for our engaged couples, Emmaus Days for young men discerning priesthood, and many others.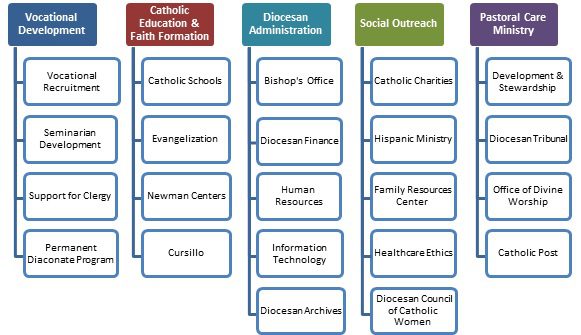 Fulfilling these responsibilities is made possible through the generous response of the people of the Diocese, including the wonderful people of this parish.  The Diocese includes 156 parishes. Every household is encouraged to help support these important ministries and agencies in our Diocese.